My family is happiest outdoors. Some of our favorite memories since we have had children were made camping. Chris and I were toying around with the idea of buying a camper and over a year ago I saved a google search for a vintage Steury. I wanted a Steury because they are rare and known for their excellent quality. And they're insanely cute. Just look at this ad from the 70s.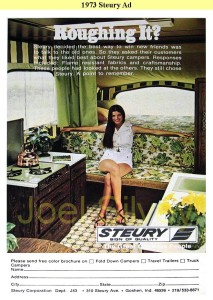 Several popped up over that year but they were out of our budget or they were in really bad shape. Then, right before the 4th of July weekend, my dream camper came on the market in Cedar Falls, Iowa at Camping World and I knew we had to have it. I called immediately and then at 3am the next morning my eldest son and I drove 14 hours to Iowa to buy it.
It was in incredible shape for its age,  with great details but it definitely needed some love. Here is a picture of the gold flecked floor: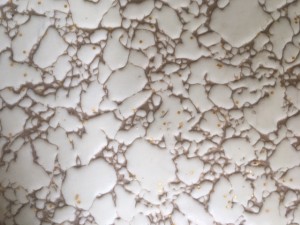 Here is a close up picture of the original upholstery and the most adorable sleeping baby ever.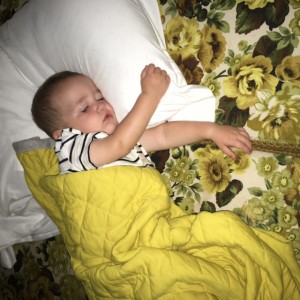 We started renovating the camper by seriously cleaning the upholstery and preserving what we could. We replaced the beds because I couldn't see any of us sleeping well on 40-year-old mattresses and we kept the covering to repair the couches and make pillows.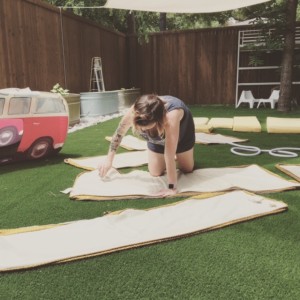 The original hard wood was great but the camper – which has three full size beds, a closet, a kitchen and a dining room – felt very small. So, we painted the wood white and it immediately felt more open. The original pulls dulled over the years so we painted them gold to match the floor. The camper had an original ice box, adorable and avocado-colored, which we replaced with a new refrigerator that we covered with avocado contact paper to look like the original.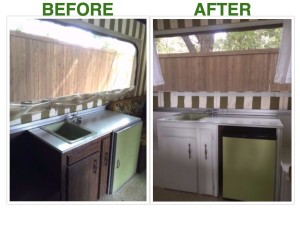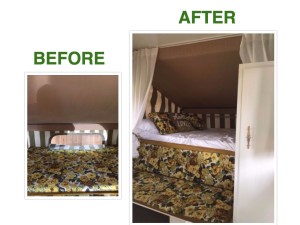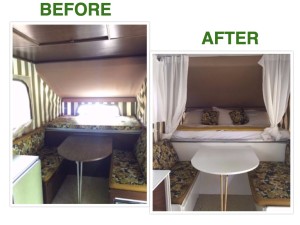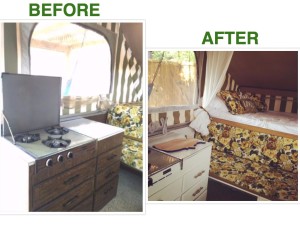 We couldn't be happier with the renovation and we have already begun making memories in the camper. Next up, she really needs a name. Any suggestions?